Survey
UG Amendment 2021 – Positions and Impact
Elise Richter Network – July 2021
Topics
Career trajectories | Employment history | Career barriers | Impact §109 chain
contract rule | Institutional career development | Impact of Covid-19 on research
projects.
Cohort
Female top scholars in Austria who received an Elise Richter Excellence Award
between 2006 and 2020.
Response rate 35% (since 2006 funding of 251 Richter awards, 222 of these PIs in
Elise Richter Network, 77 survey participants).
Quantitative results
– Mean duration PhD to Richter award 7.4 yrs.
– Mean duration Richter award to professorship international 3.6 yrs.,
professorship in Austria 8.3 yrs., tenure track position approx. 5 yrs.
– An excellence career for female scholars in Austria (PhD to tenure track) takes
12.4 yrs. on average.
Career trajectories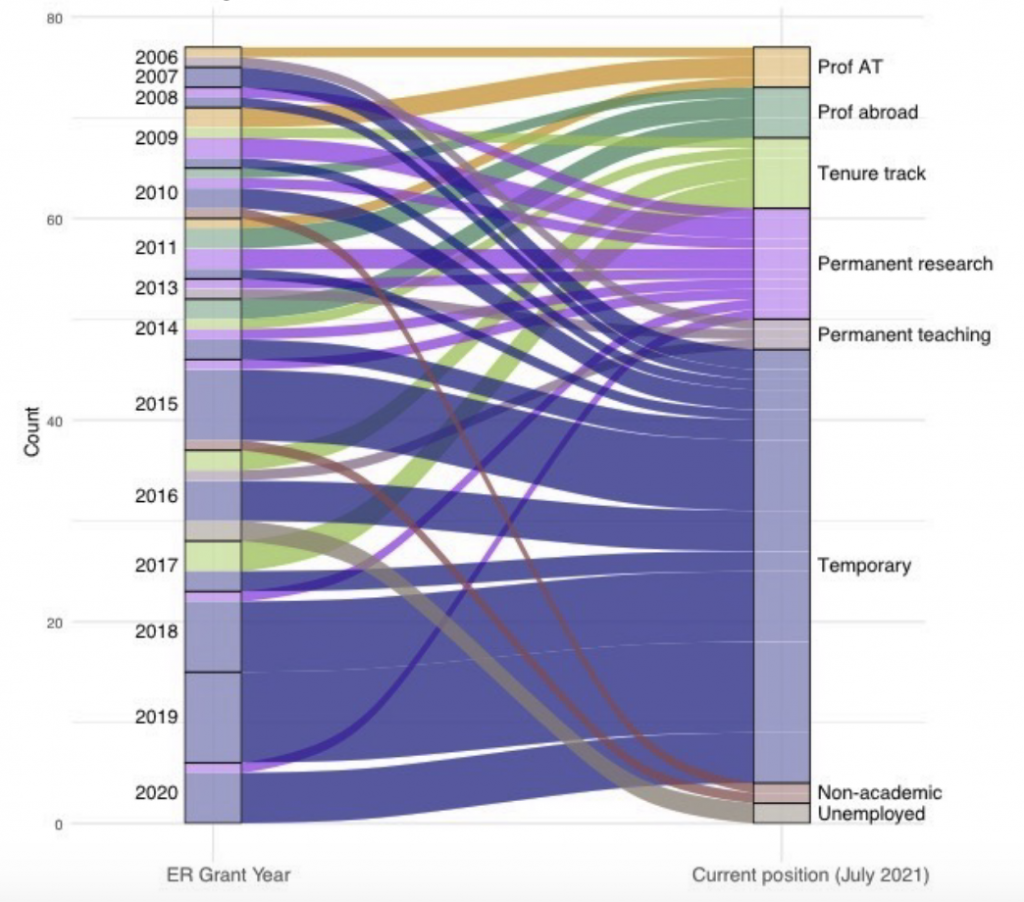 Qualitative results
Majority of participants targets a career in Austria
– Employment history >> 10 temporary contracts.
– 57% of survey participants on temporary contracts.
– Professorships achieved by scholars with Richter awards received before 2014.
– Paradigm shift towards tenure track positions at later time points (2014-2020)
– Institutional career development is lacking and turns into career barriers (bad practice examples).
– Acute research delays and interruptions were encountered due to the Covid-19 pandemic.

UG Amendment 2021
– The §109 chain contract rule will lead to massive brain drain, even more
reduced career perspectives and a loss of expertise in Austria.
– The maximal employment duration drastically counteracts diversity efforts and gender balance in academia.
– Planned science careers with targeted career development.
– A national strategy for long-term, funded career models is missing.

Action points
1. Systematic increase of diversity and gender-parity in academic top positions by nation-wide career models, generation of funded positions under the perspective of gender-balance and binding new parameters reflecting measure implementation of diversity and gender-parity in academia.
2. Absorbing the negative effects of §109 by targeted acute funds for successful scholars and canceling retrospective effectiveness of maximal employment duration.
3. Compensation of Covid-19 related delays in running projects.